Peach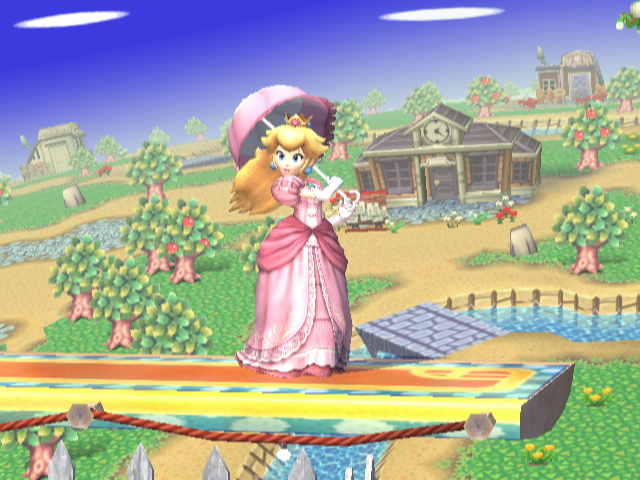 OVERVIEW
The Ruler of Mushroom Kingdom makes her return in style!
As one of Melee's iconic tournament contenders, Princess Peach has been faithfully restored - from her float mechanics, to the statistics and animations of her attacks, to even her double jump mechanics.
Peach was able to compete with the best of them using her exceptional defensive game via retreating/approaching Float-Canceled aerials, a great crouch-cancel game, and a great recovery. Her main flaw was and still is her lack of mobility; she can mitigate this somewhat with turnip approaches, but it remains her defining weakness that players must work around.
With a renewed sense of potency, Peach is ready to reclaim her crown!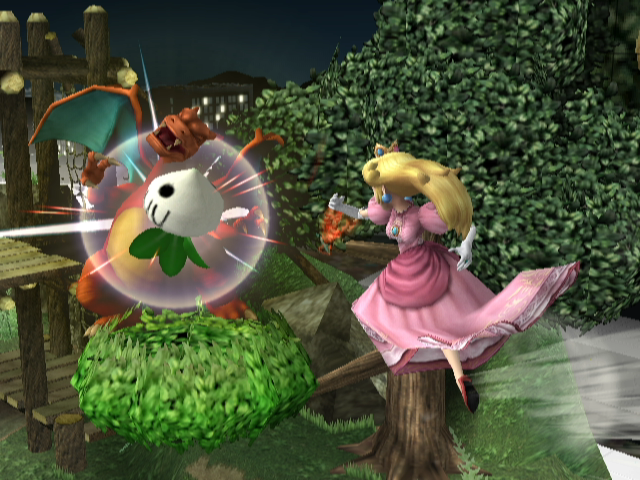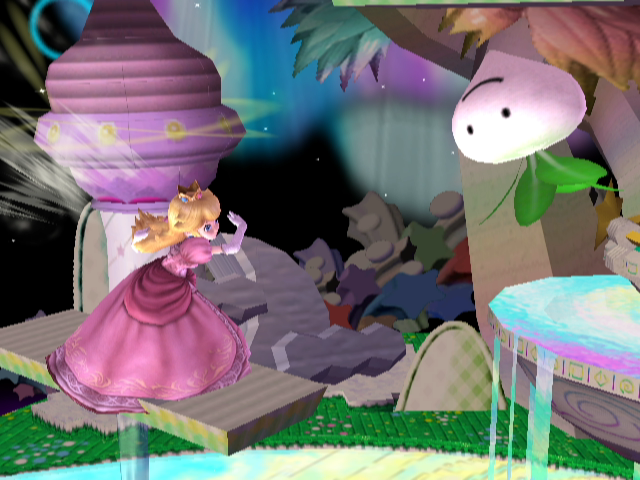 TURNIPS
Brawl's engine was not kind to Peach's turnips - they disappeared when hitting a shield and overall had worse physics. It was natural that their unique characteristics, physics, and interaction with shields be matched to Melee's turnips. Peach veterans will find that her turnip game has even been buffed somewhat - the additions of glide tossing and aerial glide tossing complement classic maneuvers such as the Vidjo-drop. Peach's vegetable barrage has never been harder to counteract.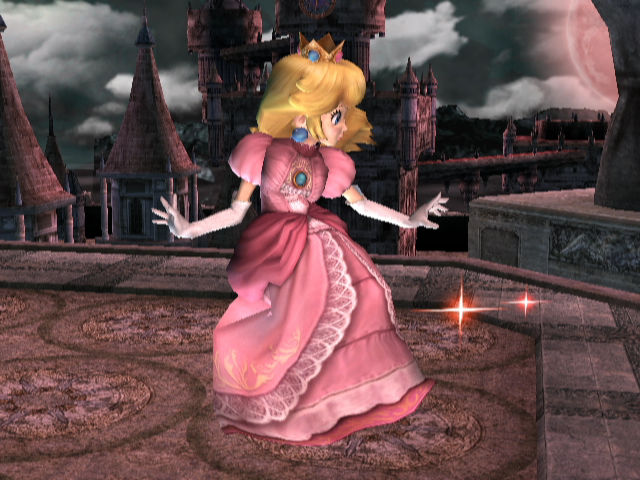 FLOAT CANCELING
A mechanic unique to Peach, float-canceling was the most effective method to reduce landing lag. As in Melee, if Peach performs an aerial out of her float and lands during the animation, she bypasses all of the aerial's landing lag - and can act again without missing a beat. This ability formed the basis of Peach's pressure game, as well as making float-canceled aerials one of the all-around safest tactics around. Although less notable, Peach has also had her double-jump canceling abilities restored to her as in Melee. Unlike Ness and Lucas, she lacks the ability to perform a rising aerial by holding the jump button.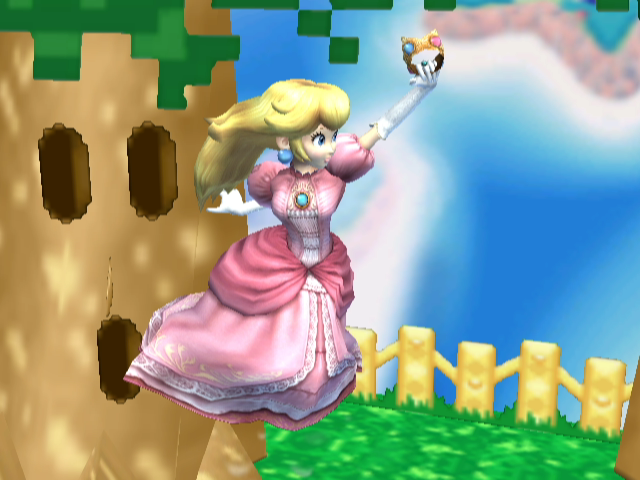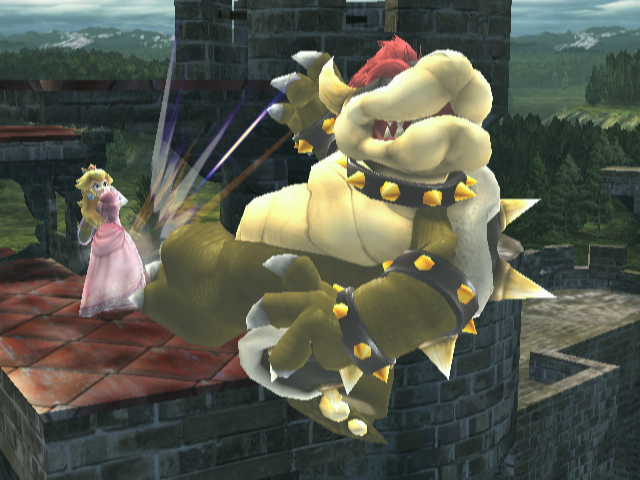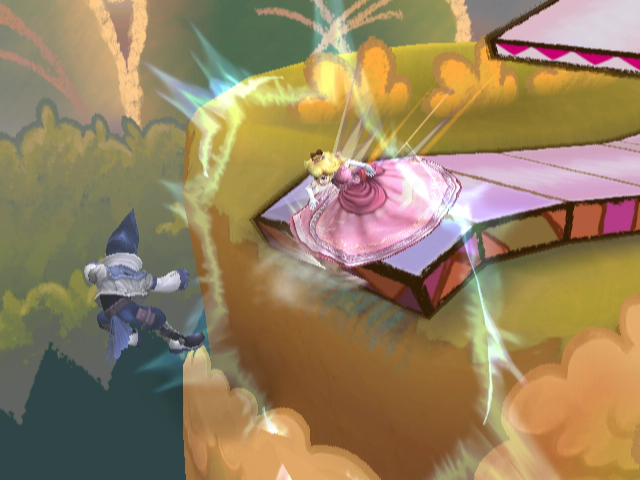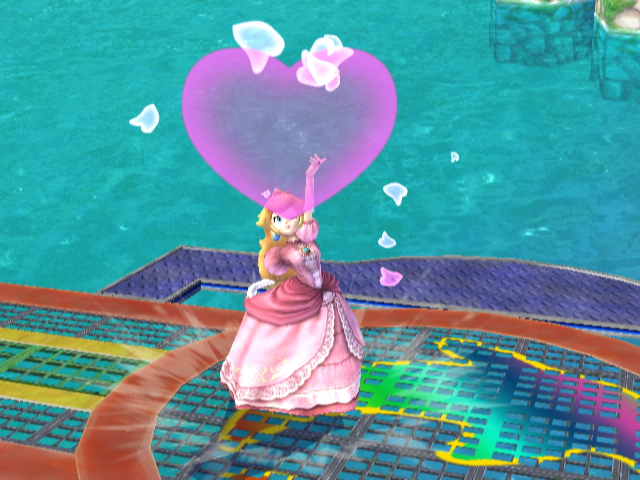 ROYAL COMBAT
The terrifying grinder of Peach's Down-Smash is back! Coupled with her fantastic Crouch-Cancel, Peach's celebrated defensive abilities are once more something to feared. Let's not forget about her other tools however - a floating Forward-Aerial is easy to approach or retreat with and hard to counter. Her Dash Attack is once again best in class, quickly covering a large distance to punish openings. Not that everything is exactly the same. Peach has retained her heart-adorned Brawl Up-Tilt, as an upgrade over the old headbutt. Her Forward Smash is more orderly - after an initial random swing, Peach settles into a pattern: Tennis, Golf, and then Cooking! Finally, it might pay to experiment with her Peach Bomber - The Princess seems to be taking cues from Captain Falcon these days…