View Stage List
Castle Siege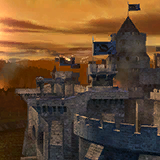 Stage Size: Medium
Platforms: 3 / 2
Ceiling: Medium / High
Side Blast Zones: Medium


With the release of Super Smash Bros. Brawl, the Fire Emblem series got it's first stage representation in the form of Castle Siege. In Project M, the fight begins atop the castle, with a fierce battle raging in the background. After a time, the castle crumbles, sending players into the underground beneath it, where they must fight atop a single rock balancing on a pillar in a cavern of lava.


While not the most extreme of stages in it's transformations, both segments of the stage have their own dynamics, and players will need to possess a level of versatility to take full advantage of it. The first section is mainly about forcing your opponent onto the edge, where the sides are unforgiving, whereas the third section is more about vertical kill potential or spiking your opponent. Playing on Castle Siege is like sieging a real castle, terrifying and exciting for everyone involved.