View Stage List
Green Hill Zone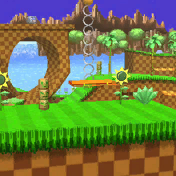 Stage Size: Medium
Platforms: 1
Ceiling: Medium
Side Blast Zones: Small


Rolling around at the speed of blast processing, Green Hill Zone is back and better than ever. In the early days, Sonic bolted through these two acts in record time, leaving the music and art direction as recognizable as the blue blur himself.The famous shuttle loop can be seen in the background of the stage along with all of the elements that made the Green Hill Zone especially remarkable.


The main stage element is the swinging platform. Behaving like a giant pendulum, the platform is a must for stage control. Low percentage vertical kills are made by its position, so live and learn to work with it. Working with the platform can allow you to drive your opponent crazy with all your cunning tricks. Keep in mind that the base of the platform is solid and can be used to recover.


*If you were under the impression that this write-up uses too many lyrics from songs of the series, there was a draft where every line was in tune with Aquatic Mine.