View Stage List
Saffron City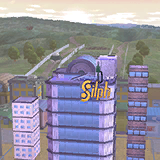 Stage Size: Large
Platforms: 5
Ceiling: Medium
Side Blast Zones: Medium


This bustling metropolis of Kanto often leaves bittersweet memories for fans of the Pokémon series. You gain access to your choice among powerful Fighting Pokémon, the coveted Psychic TM, and the legendary Master Ball, but the Psychic-type gym and a confusing labyrinth known as the Silph Company building could leave you stuck and frustrated for a while. This stage takes place on the Silph Co. roof, among skyscrapers high above the city. After the hostile takeover by Team Rocket, Silph Co. closed its doors to the public, so the Pokémon housed in the iconic box of the original N64 stage are conspicuously absent.


The layout of this stage is rather odd; the center is dominated by the Silph Company roof, with either side covered by thin buildings. The general trend of this stage is an increasing height from left to right, with a low area on the left and a high rise on the right. This is offset by two helicopter platforms above the left building, balancing out the vertical disparity. It's important to note that there is significant space between the base buildings, so unless you're looking to walljump back up like a pro, it's best to be wary of potential self-destructs.