View Stage List
Temple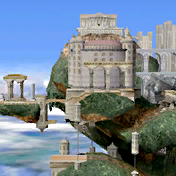 Stage Size: Extra Large
Platforms: 10
Ceiling: High
Side Blast Zones: Medium


Zelda II for the NES may not be the foremost game in The Legend of Zelda franchise, but it did influence Smash Bros. through its music and dungeon design. The Temple is a polarizing stage; some love to play it, some love to hate it, but everyone can agree that nothing quite matches the feel of hearing that music play as you and a friend or two duke it out.


It's dangerous to go alone...so take some advice. Temple is massive; the single largest stage that Project M has to offer at this point. Different play styles work in different locations on the stage, so be sure to experiment with a variety of options. Center stage it's all about vertical killing power, while below the stage it becomes more about forcing your opponent to the ledge. Flying characters can pull off the "Hyrule Jump" if timed correctly and there are tons of other tips and tricks that this stage has to offer. Find its secrets, and you will make your face the greatest in Koridai*.


* We do not apologize for quoting Zelda CD-i for comedic purposes.